This is uncommon for me because it is an an argument in memes. I started out posting this on G+, but that platform is very bad for featuring pictures. So I decided to put it here.
Disclaimer: I don't do Halloween and find the threat implied in the whole trick or treating approach to emulate an extortion racket rather than a sustainable economic system of any kind.
A few years ago, I came across this cartoon:
One on the same theme was this:
This year someone posted one that tried to go the other way, namely that trickle down economics withhold candy:
That image is actually not nearly as effective as this one: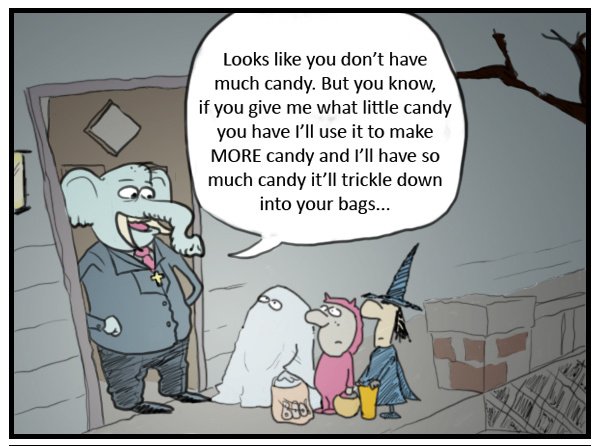 or even this one: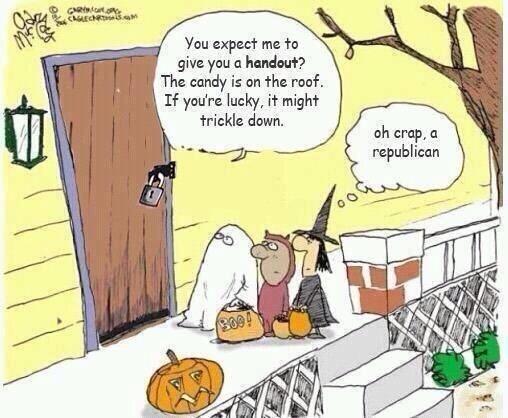 I'm not here to defend trickle-down economics as a system, but as I was thinking about the various memes, I had this epiphany: Socialism is the ultimate trickle-down economic system. You allow a single organization to take individual wealth in the form of high taxes and then distribute it as it sees fit. That is exactly the idea of this illustration:
In fact, what would happen is that while taking the candy that is supposedly to be redistributed, all the hands that pass it on drop some or deliberately transfer some to their own pockets. That is an inevitable cost of such systems of distribution.
Of course, extreme positions are just that, and there are many Republicans who are not in favor of trickle-down economics, and many Democrats who don't embrace Socialism. Each side likes to show the most extreme form of the other while ignoring its own.
But anyone who presents the notion of fairness being that people do reap the fruits of their labors as a new-fangled Republican idea is ignoring literature that dates at least as far back as oh, 600 BCE or so, when Aesop's fables were composed. You can read
The Ant and the Grasshoppper
online to understand how deeply rooted that sentiment is in culture. You can read also read the 1918 version of
The Little Red Hen
online.
That story came up in one M. Sott Peck's books. He said that he had first considered it unChristian because it seemed to indicate a lack of charity, but he came to realize that the lesson of self-reliance, the obligation to do what one can applies not just to material things.