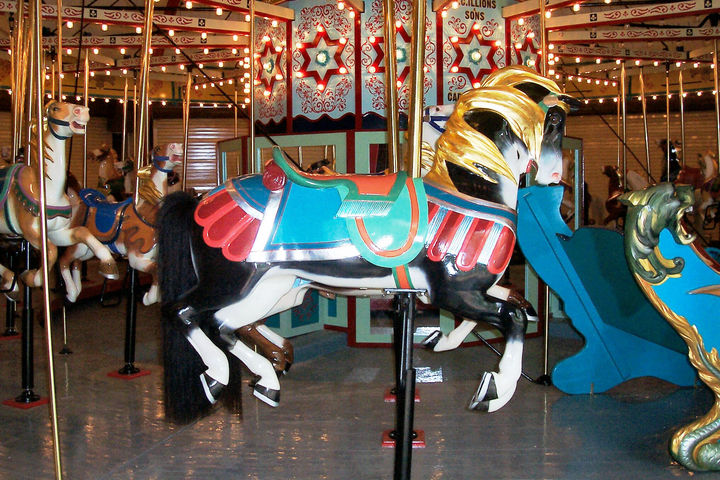 Today I rode the carousel at Hempstead Lake State Park. Counting my daughter (who did not want to go on by herself) and one other kid, the total number of riders came to three. On the round just before ours there were just two riders. I suppose carousels have fallen out of favor, though they actually have a much longer history than I suspected.
On the cashier's counter was a pile of papers with some more information about the carousel. Unfortunately, the powers that be at Hempstead Lake State Park did not bother to upload that to the park's site. For example, the historic carousel is named for Heckscher because August Heckscher donated it to the park in 1931. It continued operating until 2001 (though according to this, it faced a crisis in 1981. In 2003, the carousel was taken apart and shipped across the country to Carousel Works in Ohio for a full restoration at a cost of $400,000. The carousel was put back in place and once again opened to the public in 2005.
Pictures and some more details about its history are in About article by Linda Tagliaferro. What's interesting about the major restoration is that it truly lived up to its name. Tagliaferro writes that in the decade between 1951 and 1961, eight of the original horses were replaced by aluminum ones. During the restoration project 10 years ago, those replacements were taken out. In their place

"four original Illions carved horses that had been found in storage, as well as two Illions horses that were taken from a carousel in Pennsylvania, and two new horses that were carved in the Illions style by Carousel Works, Inc." were put in their palce.
The handout at the carousel also gave some general history of carousels, which is easier to find sourced online. Specificially, what we consider a plaything of children -- and the young at heart, of course -- actually started out as an exercise in knightly combat. Wikipedia covers that in its entry on carousels:
The word carousel originated from the Italian garosello and Spanish carosella ("little battle", used by crusaders to describe a combat preparation exercise and game played by Turkish and Arabian horsemen in the 12th century).[3] This early device was essentially a cavalry training mechanism; it prepared and strengthened the riders for actual combat as they wielded their swords at the mock enemies.
By the 17th century, the balls had been dispensed with, and instead the riders had to spear small rings that were hanging from poles overhead and rip them off.
The same point is made in a NYC report http://www.nyc.gov/html/lpc/downloads/pdf/reports/2528.pdf posted online in connection to a carousel in Queens (which wasn't in operation when we visited the park a couple of years ago).
Starting out with an eye to SEO, the NYC report includes all variant on name and spellings: "including carousel, carrousel, carousell, carousal, carosello, merry-go-round, roundabout, and
steam riding galleries. " However you spell it, the mechanism dates back to the 16th century:
"Following Henri II's unintentional death during a jousting match in 1559, French horsemen began practicing with straw and wood figures attached to rotating circular frames."
The NYC report includes this citation:
Much of the information found in this section is found in Frederick Fried, A Pictorial History of the Carousel (New York: Vestal Press, 1964, various editions), Lisa English, "Roundabout," Metropolis (July/August 1990), 57-69, "Forest Park: The Carousel," viewed at http://www.nycgovparks.org/parks/forestpark/highlights/12049. Also see

Richard W. Johnston, "The Carousel," Life (August 27, 1951), 100ff.; Robyn Love, "The Painted Ponies of Queens: Celebrating the Magic of the Carousel," poster, City of New York Parks & Recreation, 1995, LPC files; Eric Pahlke, Treasures from the Golden Age: East Carousels (forthcoming, 2013). It is worth noting that most essays and books

that are devoted to carousels lack specific citations and references to primary sources.
In the Hempstead Lake State Park handout, it explained that the brass ring that used to adorn carousels represents what the knights tried to catch as a test of skill. That was later adapted for riders of the ride for amusement around the beginning of the 18th century, according to the NYC report cited above. The oldest one still around is in Germany. It was built in 1780, and there is more information about it here.
As for the power used to propel the carousels, according to the NYC report, the rides were first moved by serfs, then oxen. Later carousels incorporated steam power. In 2011, GE set up a solar powered carousel at South Street Seaport that it called Carousolar. But the ride was not intended as a permanent fixture in New York.